TREKKING TO THE TOP OF THE WORLD, MT. EVEREST
Every trekker's dream is to reach the top of the world, Mt. Everest. Also known as Sagarmatha (in Nepalese meaning: "Forehead in the sky") and Chomolungma (in Tibetan meaning: "Mother of the World"). It is not only the dream of all serious trekkers but the pinnacle of mountain adventures in the world. Nothing compares to Mt. Everest Trekking.
The extraordinary landscape is full of breathtaking vistas, not only of Mt. Everest but many other Himalayan peaks. It is one of the most exciting and enthralling trekking routes in the world. Paradise lies here, and when you achieve the destination to the top of the world, you feel simply out of this world!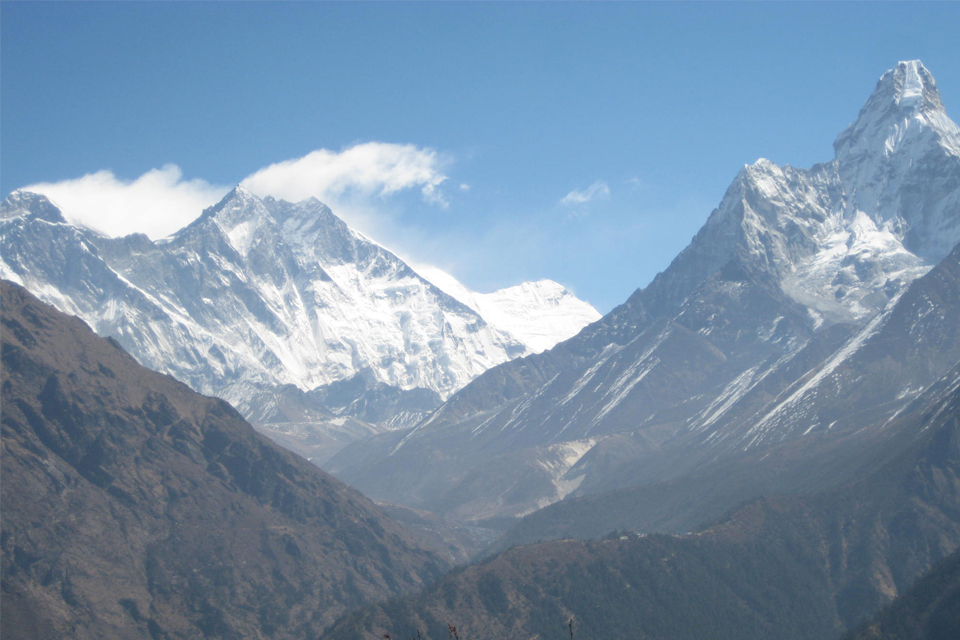 To embrace the challenge to hike to EBC (Everest Base Camp) or attempt to climb up the Mt. Everest Summit is a dare. Not everyone can do it. In earlier days, trekking to Mt. Everest was comparatively much more difficult than now. There are many trekking agencies arranging a well-organized trek along with well-trained guides, support staff, and accommodations. The rescue teams and paramedics are more mobile and on-call than ever. Hence, trekking Mt. Everest has been made much easier and safer.
Getting to Everest is now accessible either by air or on foot. Step on Himalaya has also been taking part in these expeditions to Mt Everest and arranging treks with the best facilities, training, and safety needed to provide an excellent adventure. Step On Himalaya also arranges the mountain flights for the possible closest views of Everest and other adjoining snowy peaks.
Once in the area, there are many trekking routes to Everest. You can either start in Lukla, Jiri, or the Arun Valley. Daily mountain flights and busses to your starting point are available. If you think a 12-day trek is beyond your available time or physical capability, you can also fly from Tribhuwan International Airport to Phaplu, which is relaxing and idyllic.
Aiming to the top of the world, Step on Himalaya brings you custom itineraries that will create a magical journey through the Himalayas, no matter your experience level. Let's witness the towering Mt. Everest with the other glittering Himalayan ranges, enriched with the natural beauty and local ethnic culture and traditions of the Sherpa people of the Everest Region.
Join us at Step on Himalaya for an unparalleled look at the Top of the World.
Author: Step on Himalaya
Date: 10th March, 2019