Ghorepani Poon Hill Trekking
Trip Overview
Trip at a Glance
Country: Nepal
Trip grade: Easy
Destination: Nepal
Activities: Nepal Trekking
Accommodation: Standard hotels in Kathmandu and Pokhara. Tea houses during the trek.
Meals: Breakfast in Kathmandu and Pokhara. 3 meals during the trek
Maximum altitude: 3210m
Group size: 2-12
Best Season: Sept. - Nov. and March - May
Ghorepani Poon Hill, situated in the Western part of Pokhara in Annapurna Region, is famous for short treks. The maximum altitude of Poon Hill is 3210 which offers the picturesque view of the amazing Annapurna mountain ranges as the Annapurna I, II, III, the Gangapurna, the Nilgiri Himalaya, the Machapuchhre Himal, the Dhaulagiri Mountain, etc. This Ghorepani Poon Hill trekking starts from the Nayapul of Pokhara city and ends here. The quiet ambiance of the Pokhara city and the whole trail to Ghorepani Poon Hill mesmerizes the trekkers. The trekking trail to Ghorepani and Poon Hill are embellished with the rhododendron trees and the alpine vegetation of the juniper and cedar. The chirping sounds of the birds give pleasant musical surroundings to the trekkers. The beautiful hamlets of the local Gurungs and Magars, the beautiful terraced paddy fields, the amazing landscapes of the Ghorepani Poon Hill are the main attractions.
View More
Trip Map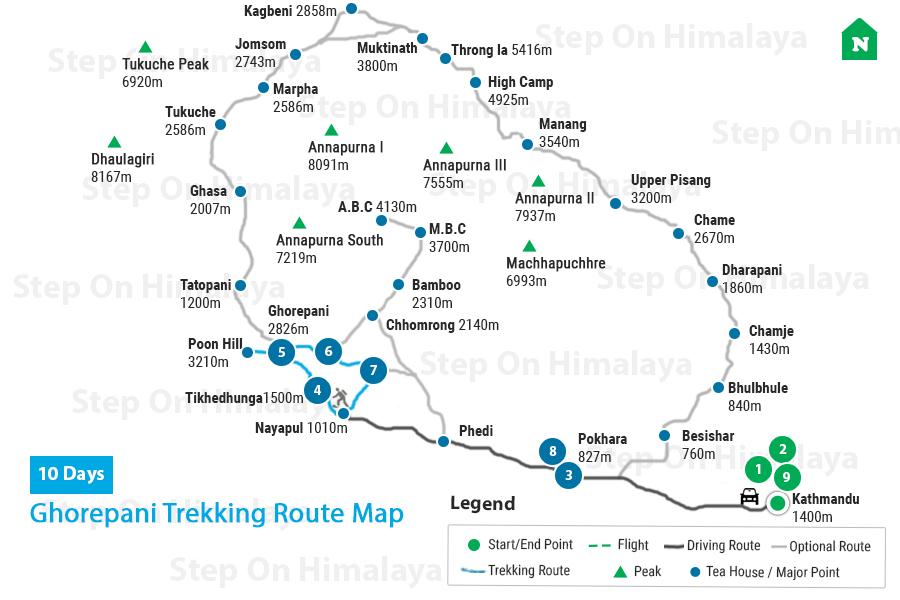 FAQ's
A trekker has to walk a minimum of 5 to 8 hours daily.
Detail Itinerary
Day 01 : Arrival in Kathmandu (4,264ft/1,300m) and transfer to Hotel

You will be greeted by our representative of Step On Himalaya at Tribhuwan International Airport and then escorted in a private vehicle to the designated hotel in Kathmandu. You will be briefed about the entire program once you settled down.
Accommodation:
Hotel
Meal:
n/a
Day 02 : Kathmandu Valley Sightseeing Tour (4,264ft/1,300m)

After breakfast, you will be taken to the different cultural and historical heritage of the Kathmandu valley in a private vehicle to maintain your comfort zone. The main places are the historical Kathmandu Durbar Square, the famous Monkey temple – Swayambhunath, the oldest Buddhist shrine – Boudhanath stupa and the holy Hindu temple of Lord Shiva – Pashupatinath.
Accommodation:
Hotel
Meal:
Breakfast
Day 03 : Early morning drive from Kathmandu to Pokhara (2,789ft/827m) –6 to 7 hours drive

You have to reach the Bus station by 7 am to catch the bus leaving for Pokhara. After early morning breakfast, you will take the tourist coach following the Prithivi Highway to Pokhara. The drive will be for about 6 – 7 hours. The sceneries of the typical villages in the green hills, the unique terrace farming, and the jungles filled with rhododendron, oak, juniper, etc. and the free-flowing river alongside the road will enchant you. Pokhara is famous as the tourist hub and the second largest city of Nepal.
Accommodation:
Hotel
Meal:
Breakfast
Day 04 : 30 minutes-Drive to Nayapul then Trek to Tikhedhunga (4921ft/1500m) – 3 to 4 hours walk

You will start trekking today from Nayapul towards Tikhedhunga. From the hotel, you will drive for about 30 minutes to reach Nayapul and then the real walk begins. Fishtail and Annapurna himals are clearly visible on the way. As soon as you reach Nayapul, get set ready to walk following the Trail of Modi River crossing several settlements like Birethanti, Ram Ghai, Sudame, etc. En-route to Tikhedhunga, you can enjoy the green surroundings, terraced lands, friendly local people and the Nepalese food. Overnight stay at Tikhedhunga.
Accommodation:
Tea house
Meal:
Breakfast, Lunch and Dinner
Day 05 : Trek to Ghorepani (9271ft/2826m) from Tikhedhunga – 6 Hours walk

After breakfast, get ready to hike up towards Ghorepani. It is a steep trail up to Ulleri from where amazing views of Mt. Annapurna South can be seen. As you continue the trek, you will get into the dense forests of Rhododendron crossing small rivulets. Lunch stop-by at Nangethanti village. After having lunch, you will again start walking up towards Ghorepani village for the overnight stay.
Accommodation:
Tea house
Meal:
Breakfast, Lunch and Dinner
Day 06 : A short Hike to Poon Hill (10531ft/3210m) and Trek to Tadapani (8927ft/2721m) – 6 hours

Poon hill is one of the best vantage points of Annapurna region from where you can enjoy the best sunrise view. So you will have to rise very early not to miss the chance to see the mesmerizing sight of sun rays falling over the giant Annapurna range. From Tikhedhunga, it will take about an hour to reach the Poon hill viewpoint. The snowy peaks are Annapurna I, Annapurna II, Annapurna III, Annapurna IV, Annapurna South, Tukuche, Nilgiri, Varaha Shikhar, Dhaulagiri, and Lamjung Himal.
After spending some time in Ghorepani, you will return back to the hotel for breakfast and then descend to Tadapani village.
Accommodation:
Tea house
Meal:
Breakfast, Lunch and Dinner
Day 07 : Trek from Tadapani to Ghandruk Village (6601ft/2012m) – 3 hours walk

You can start late as the walk from Tadapani to Ghandruk is an easy trail. As it is about 3 hours walk, you can explore the amazing natural beauty of Ghandruk. You will pass via forests. If you are lucky, you can encounter the monkeys. You can arrive at Ghandruk and then have a visit to the Gurung Museum. Ghandruk is a very clean and gorgeous settlement. It is usually advisable not to walk alone alongside the trail. Overnight stay at Ghandruk Village.
Accommodation:
Tea house
Meal:
Breakfast, Lunch and Dinner
Day 08 : Trek from Ghandruk Village to Nayapul (6791ft/2070m) and drive to Pokhara (2,789ft/827m) – 7 Hours walk and 1:30m drive

After early morning breakfast, you will start walking from Ghandruk Village via fields. You will arrive at the newly built road to Nayapul by following the trail following the Modi River. You will catch a car to Pokhara from Napaypul. Upon arriving at Pokhara, you can walk around the Pokhara city and enjoy the evening walk near the Phewa Lake. Overnight stay at Pokhara city.
Accommodation:
Hotel
Meal:
Breakfast and Lunch
Day 09 : Drive from Pokhara to Kathmandu – 6 to 7 Hours

You will drive from Pokhara to Kathmandu after eating breakfast at around 7:00 am. Enjoying the amazing sceneries, you will reach Kathmandu by 2:00 – 3:00 pm. Overnight stay at Kathmandu.
Accommodation:
Hotel
Meal:
Breakfast
Day 10 : Depart from Kathmandu

Today is the end of the trip of Ghorepani Trek. If an extension is desired, please feel free to inform us. If not, you will be taken to the Kathmandu Airport at least 3 hours before your check-in for the flight.
Meal:
Breakfast
Cost Details
What is included?
Pick up and Drop services from and to the Airport in a private transport
Hotel accommodation in twin sharing basis in Kathmandu and Pokhara
Guided city tour in Kathmandu by private transport
Accommodation at Teahouses/Guesthouses/Lodges during the trek
Meals as mentioned in the Itinerary
Experienced, Government Licensed, English speaking Guide
Porter (2 trekkers: 1 porter)
Salary, Insurance, Food, and Accommodation of the staff
All the documentation, trekking permits, TIMs
All the local and government taxes
What is not included?
Nepal Entry Visa Fee
International Airfare
Extra luggage/baggage charges
Extended stay
Emergency Evacuation charge
Medical and Travel Insurance
Personal expenses like beverages, phone bills, internet bills, hot showers, etc.
Meals in Kathmandu and Pokhara
Any other cost out of "What is Included" section or not mentioned in the provided Itinerary
Tips for the staff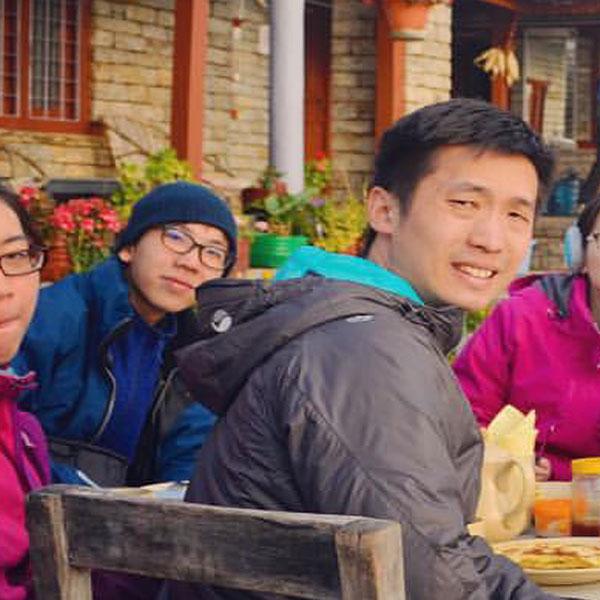 Ghorepani Poon Hill Trekking - my first overseas Trekking that also in Nepal, the wonderland, Hari, and his team Step on Himalaya gave me an excellent experience. During the four days trekking to Ghorepani Poon Hill, I never felt left out. They treated us as his family members and not only gave us professional trekking advice but also shared his stories and community problems of living in Nepal. I'm quite sure that all of these experiences were not easy to learn from the other tour guides.

I would also like to appreciate Hari's professional service when we accidentally walked at night during the trip. Without him, we were definitely trapped in strange mountains and might face danger during the journey. Hari is perfect to save all of us! He is a perfect guide in the Himalayas.
Nemean Nelson, Hongkong
---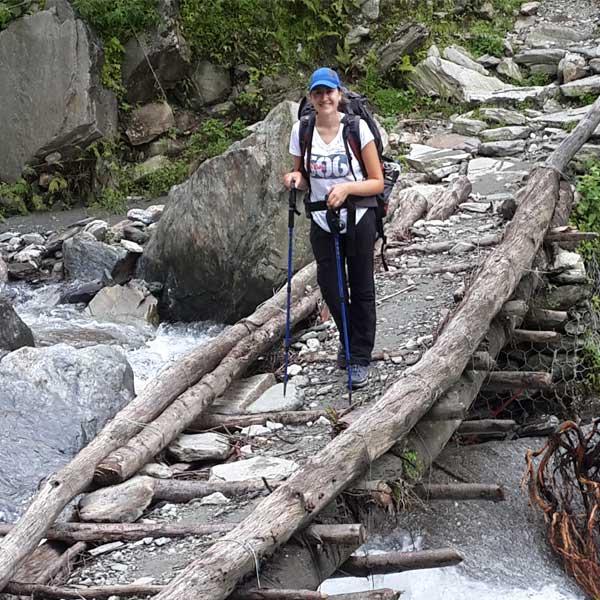 Hari is better than you can expect. Not only does he have a lot of experience as a guide, but he also takes care of you, but he is also waiting for any detail. Hari knows how to create a very pleasant atmosphere and in a few days, he becomes a great friend. Looking forward to repeating soon.
Laura SG, Spain
---