Colors always make us cheerful. There is no comparison of the joyous feeling brought by the vibrancy of colors. The colors make the souls happy. All Nepalese celebrate a festival of colors called "HOLI". It falls in the month of Falgun on the full moon day. There are various ethnicities in Nepal that celebrate this awesome festival full of delight and pleasure in different ways and different dates too. In Nepal, the Holi festival is celebrated for two days: 1st day in the capital city, Kathmandu and other hilly regions of Nepal whereas 2nd day in the Terai region. Family members, relatives, friends, etc. gather around and play Holi splashing colorful waters or smearing colored powders on their faces. The name "Holi" is after the destruction of a female demon named "Holika" by burning to death who tried to kill Prahlad, the devotee of Lord Vishnu.
There is another story of Hindu mythology related to Holi. Lord Krishna is known for his naughtiness during his childhood. Once he lured all the gopinis or milkmaids by dancing with them. He saw they were fully occupied with the melodious music of his flute; he drenched them into the colored water. He took their clothes and hung on a tree to tease them. People erect a wooden pole in the memory of that very tree of Chir and later on after worshipping, they take it for a bonfire.
In Nepal, this establishment of a wooden pole is done in the Basantapur Durbar Square and other parts of Nepal. On this day, Nepalese women in beautiful costumes especially Sari and carrying a plate or a basket of auspicious things for worshipping can be observed during this festival. Nowadays, there is a trend of public celebration of Holi where singers perform musical concerts and dance program usually in the Durbar Square and nearby areas. People will gather here and spray Holi powder or splash colorful water to each other. You can see a blissful joy and peace in everyone's face while celebrating this amazing festival of colors.
As it is a public holiday throughout the nation, most of the shops and store are closed. Confectioners sell varieties of sweets and confectioneries on this day. People usually mix Bhang (marijuana) in drinks; sweets like ladoos, barfis, etc. and take it to feel ecstatic. The fun of celebrating Holi will make you feel childhood happiness. People usually wear white clothes so that the beautiful colors will dye them in a gorgeous way. During the afternoon, when you start walking on the streets, you will be indulged into colors either by spraying with pichkaaris (water gun) or water-filled balloons (Lolas) or simply colors or water.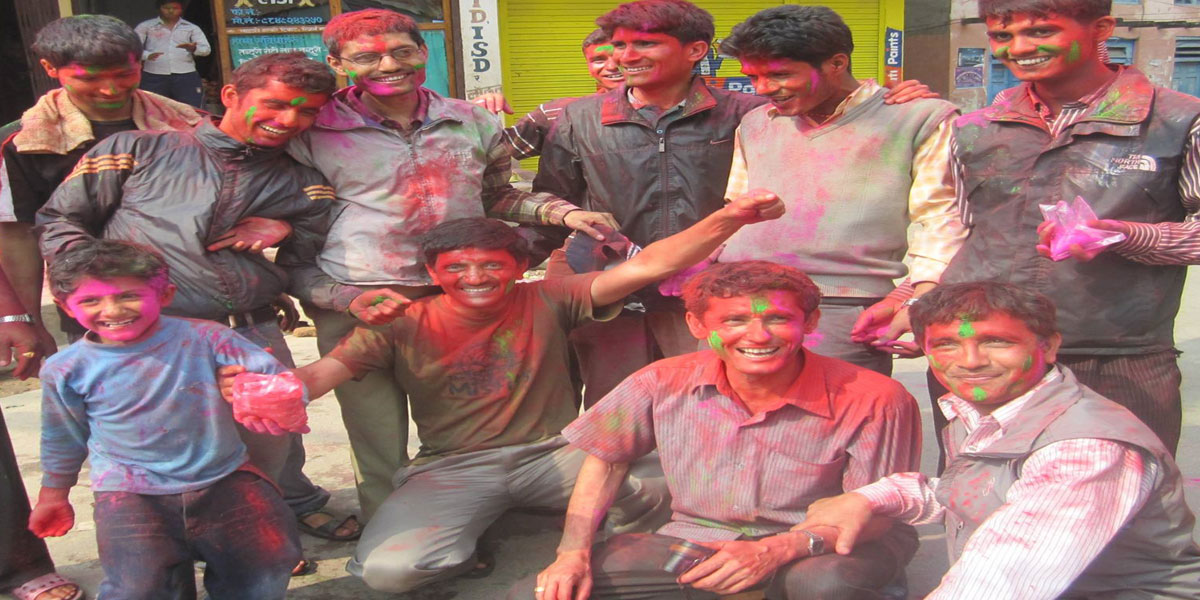 Holi festival brings happiness and togetherness among everyone. Not only about entertaining each other but also celebrating Holi with family and relatives means a lot. Visiting relatives home and exchanging gifts and sweets has become a fashion during Holi. When you walk around the streets, you can see kids, youths, adults and elderly all enjoying the Holi and spreading the incredible delight of colors. There is no caste discrimination for celebrating Holi. The intoxication of Holi is simply marvelous. Visit Nepal and be part of this festival to feel the awesomeness of colors.
Here are some tips or precautions to be taken if you are planning to visit Nepal during this festival.
Cheap clothes and slippers are advised to wear. So that if it is damaged, you can easily discard those.
A transparent cover or plastic wraps or raincoat for the camera and mobile phones to avoid harm by water to electronic devices
Try avoiding eating sweets or confectioneries or drinks prepared and offered in the streets as it may contain bhang (marijuana)
Carry as much as the low amount of cash as there is a chance of getting robbed as it will be the crowd
Author: Step On Himalaya
Date: 18th March, 2019