Buddha Jayanti | Buddha's Birthday | Buddha Purnima
"Buddham Saranam Gachhami, Dhammam Saranam Gachhami, Sangham Saranam Gachhami" – means "I take refuge in Buddha, I take refuge in Dharma, I take refuge in Sangha".
Buddha Purnima or Buddha Jayanti is celebrated on the full moon day of Baisakh Shukla Purnima according to the Lunar Calendar. Not only it is the birthday of Lord Gautam Buddha, but also it is the day of attainment of his enlightenment and Nirvana. Buddha Jayanti is celebrated all over the world especially by Buddhists or followers of Buddhism. This day is an auspicious day that always reminds about peace and humanity. Lord Buddha's teachings and his virtues are still being followed in order to spread love and happiness and also to seek the salvation from the miseries and sufferings that start upon birth in this Earth. Born in Shakya Dynasty to King Suddhodhana and Queen Mayadevi, Lord Gautam Buddha's real name is Prince Siddhartha Gautam. He always believes in sharing love, curing illness, relieving ailments of any kind, helping the poor and needy that prompted him to achieve enlightenment and preach the language of humanity throughout the world.
There are two famous Stupas here in Kathmandu valley: Boudhanath Stupa and Swayambhunath Stupa. There are other Chaityas, Bihar, and Stupas in Kathmandu as well as other parts of the country. Many Stupas and monasteries are established by different nations in Lumbini, the birthplace of Lord Gautam Buddha as a tribute. Namo Buddha is another famous Buddhist stupa in Kavrepalanchowk, out of Kathmandu valley. During Buddha Purnima or Buddha Jayanti, thousands of Buddhists visit Lumbini and spend their day in prayers and offerings. Similarly, this auspicious day is celebrated in Bodh Gaya, India in a special manner. It is believed that Lord Buddha attained his enlightenment in Body Gaya on this day. Likewise, countries like Thailand, Vietnam, Bhutan, Myanmar, Sri Lanka, etc. also, celebrate Buddha Purnima with full holiness.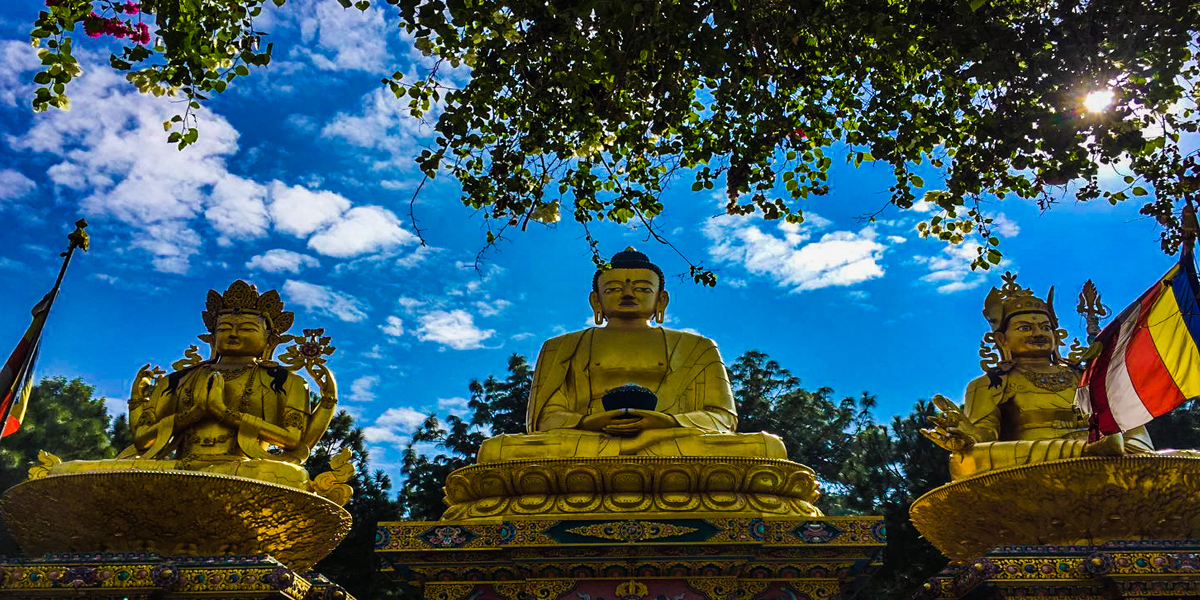 Buddhism is one of the main religions of Nepal. Hence, the followers of Buddhism are scattered everywhere throughout the nation and celebrate this special day in different ways. Group meditations, prayers, hymns, worshipping, and processions are some activities done during this holy day. Butter lamps, varieties of food delicacies and clothing are offered in the monasteries and stupas during the celebration. Donations are also done for the maintenance and renovations. People gather and spread the NOBLE EIGHTFOLD PATH of Lord Buddha. These paths have always given the right guidance to lead a successful life without any greed but with full of love and humanity. These paths are as follows:
1. Right understanding (Samma ditthi)
2. Right thought (Samma sankappa)
3. Right speech (Samma vaca)
4. Right action (Samma kammanta)
5. Right livelihood (Samma ajiva)
6. Right Effort (Samma vayama)
7. Right mindfulness (Samma sati)
8. Right concentration (Samma samadhi)
Buddha Purnima falls on the end of Spring Season and the beginning of Summer season. So it is quite a better time to visit Nepal and enjoy the joy of Buddha Jayanti. The Lumbini tour is one of the most selected packages of travelers to Nepal. Lumbini Tour is most of the time combined with other tours like Pokhara or Chitwan Tour as these famous places are accessible via roads within a few hours. Buddha Jayanti celebrations can be enjoyed in different monasteries and stupas of different places if you think of traveling during the month of May. Step On Himalaya has brought various packages that include the Lumbini Tour in a very feasible price. If you want to experience the awesomeness of celebrations of Buddha Purnima or Buddha Jayanti, Step On Himalaya can arrange the itinerary according to your convenience. Happy Buddha Jayanti to Everyone.
Author: Step On Himalaya
Date: 21st May, 2019
Related Trip