Short Annapurna Base Camp Trek
Trip Overview
Pokhara – a city of natural and cultural wonders lies in the western part of Nepal. Pokhara valley is a grandeur surrounded by the sparkling snowy white Himalayas, green hills and the beautiful villages. The aura of Pokhara valley is appealing to explore the exotic nature and bizarre culture and traditions. Easily accessible from Kathmandu via regular flights or by road, Pokhara is full of immense natural beauty. Being the entry point of trekking to Annapurna and Dhaulagiri ranges, Pokhara has gained an identity of a flourishing tourist destination of Nepal. Hence, Step On Himalaya here steps in with an itinerary of SHORT TREKKING FROM POKHARA TO ANNAPURNA BASE CAMP. This 5 days' short trekking starts and ends at Pokhara. Within these 5 days, you will be assured of unlimited exciting experiences passing through the serene settlements bounded by the Himalayas of Annapurna and Dhaulagiri ranges.
View More
Detail Itinerary
Day 1: Trek from Pokhara to Chhomrong (7119ft/2170m)

The first day of Short ABC trek starts the early morning after the breakfast in the hotel. You will drive to the Sewai passing via Nayapul and Birethanti. The roads to Sewai are the combo of the black pitched road of about 37 km and off-road of about 14 km. The real trekking now starts from Sewai to Chhomrong passing through the beautiful villages of New Bridge, Kyumi and Jhinu Danda. The ascents and descents will lead you to the Chhomrong. The final part of the trail from Jhinu Danda is steep towards the Chhomrong. Here you can enjoy the glimpse of the Annapurna South, Machhapuchhre (Fishtail), Annapurna III and Himchuli. Overnight at Chhomrong.
Accommodation:
Guesthouse/Lodge
Meal:
Breakfast, Lunch, Dinner
Day 2: Trek from Chhomrong to Himalaya (9580ft/2920

The second day of Short ABC trek starts as the first day. Chhomrong village has many wholesale shops, bakery, tea houses and guesthouses. Items for the Trekking are available at these wholesale shops. Now you will walk down on the paths paved with stones till Chhomrong River passing by the Chhomrong village. There is a steel suspension bridge ahead crossing it, you will ascend towards Sinwa village. This walk is a little bit longer and might take about 2 – 3 hours uphill. After Sinwa, you will have to climb up a little and then down to Bamboo and stop by lunch. You will reach Himalaya after crossing the Dovan at 2600m. Overnight at Himalaya.
Accommodation:
Guesthouse/Lodge
Meal:
Breakfast, Lunch, Dinner
Day 3: Trek from Himalaya to ABC (13549ft/4130m)

The third day of Short ABC trek starts as soon as you will have the breakfast and then buckle up and walk towards Annapurna Base Camp. Annapurna Base Camp lies at the elevation of 4130m. You will bypass the Deurali and Machhapuchhre Base Camp to arrive at Annapurna Base Camp. As most parts of the trekking are gradually inclined, the elevation usually does not give pressure. You will stop by at Machhapuchhre Base Camp for the lunch. The arrival at the Annapurna Base Camp will offer you the panoramas of the glittering Himalayas of Annapurna III, Gangapurna, Machhapuchhre, Gandharva Chuli, Annapurna South, Himchuli, etc. The views of the Annapurna glaciers and the amazing sunset over the Machhapuchhre and other snowy peaks are captivating. Overnight at Annapurna Base Camp.
Accommodation:
Guesthouse/Lodge
Meal:
Breakfast, Lunch, Dinner
Day 4: Trek back down from ABC to Bamboo (7578ft/2310m)

The fourth day of Short ABC trek starts with the delightful early sunrise over the dazzling peaks of the Annapurna range from the Annapurna Base Camp. After having breakfast, you will walk down towards Deurali, Dovan and then Bamboo. Overnight at Bamboo.
Accommodation:
Guesthouse/Lodge
Meal:
Breakfast, Lunch, Dinner
Day 5: Trek back from Bamboo to Sewai and drive back to Pokhara (2,789ft/827m)

The fifth and last day of Short ABC trek starts with descent from Bamboo passing via Sinuwa, Chhomrong village, Jhinu Danda. After having breakfast, you will walk for about 4 – 5 hours to reach Sewai. From here, you will head back to Pokhara in a coach or private transport for about 3 hours. Overnight at Pokhara.
Accommodation:
n/a
Meal:
Breakfast, Lunch
Cost Details
What is included?
Ground transportation from Pokhara and back to Pokhara
All 3 meals on board (Breakfast, Lunch and Dinner)
Accommodation in twin-sharing basis at the Teahouses
ACAP (Annapurna Conservation Area Project)permits, TIMS card
Local and Government taxes
Trained, experienced, Government certified Trekking staffs: Guide, Porters and other supporting staffs
Salary, food, accommodation, insurances, basic equipment for all the trekking staffs
What is not included?
Nepal Visa Entry Fee
Food and Accommodation in Pokhara
Personal trekking gears, accessories and equipment
Personal expenses like mineral water, snacks, bar bills, beverages, internet, phone bills, laundry, etc.
Extra supporting staffs and their expenses
Expenses that will be incurred during the emergency evacuation due to natural calamities or personal reasons
Any of the cost not mentioned in "Cost Includes" section
Tips and gratitude for all the trekking staffs
Trip Map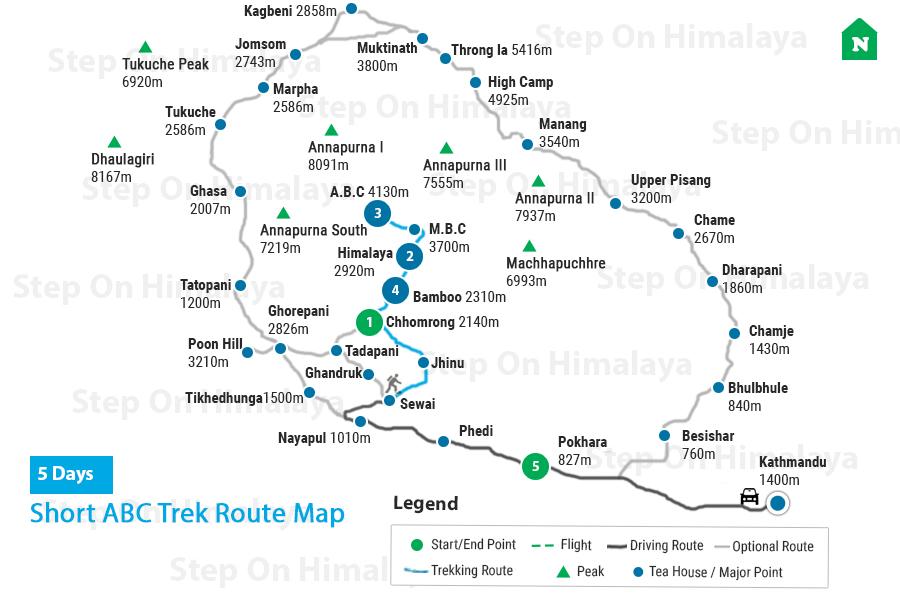 FAQ
A trekker has to walk a minimum of 5 to 8 hours daily.
As a Himalayan trekking adventure, you will trek through mountainous landscape. Walking up and down the hill during the trek is quite common characteristic of trekking in Nepal.
Yes, definitely. Elevation change is an important part of the trek. As there is a lot of walking up and down the hill, there is an elevation change every day. However, the range of change differs from day to day. It is mostly an uphill trek up to the destination and downhill on the way back. However, the trail winds up and down the mountains throughout the trek regardless of the elevation difference for the day.
Nepal offers trekking adventures throughout the year. However, the autumn and springs seasons are the best seasons to go trekking in Nepal. The months of September-November and March to May offer the best weather and atmosphere for trekking. Althgouh high altitude trekking is quite difficult and impossible in winter season, low altitude trekking can be done throughout the year.
Although age is not a bar to go on a trekking adventure in Nepal, you certainly need to consider a few factors before going on a trek. The basic requirement for trekking in Nepal is good fitness level regardless of your age. Since the activity involves a lot of walking up and down the mountains, you need to be fit enough to indulge in the activity for multiple days.
We highly recommend taking a guide with you when you go on the trekking adventure. Even if the trail is well-trodden and has many trekkers trekking, you need to have a guide for many reasons. First of all, a guide is not only the person to show you the trail. A trekking guide has a huge responsibilty of completing the adventure ensuring the safety of trekkers in the strange mountains. Moreover, the guide will also make your trip more than an adventure. It becomes a lifetime experience.
The most common food during the trek is Dal Bhat. However, you can choose other food items from the menu. The food items differ from region to region.
You need to prepare your stuff wisely for the trek. The backpack you get ready for the trek should have all essentials and avoid any unnecessary stuff in there. Check this equipment list for a better understanding of what to pack for the trek.
As a high altitude trekking adventure, the trek always has a risk of getting altitude sickness. While it is not predictable who, where, and how they will get it, we all need to be well-aware and prepared for the unwanted. As we gain altitude during the trek, we should be more careful on our pace of walk, food, water, rest, and recovery. Being careful and taking it easy in the mountains can reduce the chance of getting altitude sickness.
Yes, permits are necessary for the trek. Since, you are going on our package, we take care of everything. You do not need to worry about arranging the permit for yourself.
Yes, you will need some cash in the mountain. Although your major meals are included in our package, you may need money for drinks, shower, souvenir shopping, wifi, device charging, and tips to guide and porters at the end of the trip.
We will brief you on how much to take on the first day of the trip when we meet in Kathmandu.
In that unfortunate case, we will make sure that you are well taken care of. If you cannot continue your journey further towards the destination and want to rest or return back, we will arrange a porter to be with you and take care of you while rest of the group members continue the trek.
Review