Gosainkunda Lake Trek
Trip Overview
Gosainkunda is a beautiful lake in the Langtang region of the Himalaya. It is not only a beautiful place but also a sacred place with spiritual vibes. Gosainkunda Lake Trek is the adventure to explore the beauty of the lake and the surroundings that it goes through. The adventure offers a short and beautiful Himalayan trekking experience.
What is Gosainkunda Lake Trek like?
Just a 5-day trip from Kathmandu, Gosainkunda Lake Trek is a beautiful trekking adventure in Langtang. Although this adventure doesn't take you on a trek to Langtang valley, it shows you wonderful mountains and nature in the region.
This trek can also be combined with Langtang Valley Trek before heading to the Gosainkunda Lake. But while you are on this particular package, you are going to explore the Gosainkunda region only.
Just a 3-day trek from Dhunche in Rasuwa district completes the trek. It is a short but incredibly beautiful trekking adventure. If you do not have enough time to spend on the holiday, you can choose to go on this trek.
Gosainkunda Lake is a sacred spiritual site for Hindus and Buddhist faith believers in Nepal. We can see a lot of people trekking to the lake for pilgrimage purpose. In addition to being a sacred place, it also has beautiful surroundings that keep your heart and mind excited.
The peaceful trail that leads to the lake has beautiful small villages along. You will be able to witness and experience the rural lifestyle of the people living in the region during the trek.
View More
Detail Itinerary
Day 1: Drive from Kathmandu to Dhunche Bazaar

The scenic drive from Kathmandu heading towards Dhunche Bazaar starts from Sundarijal. Dhunche Bazaar is the headquarters of Rasuwa District. It usually takes 7-8 hours to reach Dhunche Bazaar on a local bus. Private transportation like jeep also can be arranged at a little extra cost. On the way, you can enjoy the amazing sceneries leaving the Kathmandu valley surrounded by white glittering Himalayas. The jungle on one side of the road and the villages with agricultural lands and rivers on the other side look very stunning. The whole way to Dhunche Bazaar is full of overwhelming nature. Overnight stay at a hotel at Dhunche Bazaar.
Accommodation:
Hotel/Lodge
Meal:
Lunch, Dinner
Day 2: Start of the trek from Dhunche Bazaar to Chandanbari

Early morning breakfast followed by trek destining towards Chandanbari today. When you stand at Dhunche Bazaar, the panorama of the beautiful giant mountains pacifies your heart and soothes your eyes. The cold breeze simply raises the excitement of the trek to Chandanbari. On the way, you can see many pasture lands, unused lands, and forests of pines and rhododendrons. The beautiful waterfalls let you cool. You might encounter some wild animals and birds while passing through the jungle. After walking about 5 – 6 hours, you will arrive at Chandanbari for the overnight stay.
Accommodation:
Tea house/Guest house
Meal:
Breakfast, Lunch, Dinner
Day 3: Trek from Chandanbari to Gosainkunda

Today's walk is destined to Gosainkunda. This place is famous for Gosainkunda lake as a sacred place where Lord Shiva put down his Trident (Trishul) and Gosainkunda lake and many other lakes were originated from the crack in the earth. There is a mass gathering here on Janai Purnima day with the belief that if they take bath in the Gosainkunda lake, their ailments and sins are washed away. Tamang community is the major settlement here in this region followed by Brahmin and other castes. The gorgeous view of Langtang Lirung Himal on the way is mesmerizing. You can enjoy the great scenic beauty of dainty villages like Lauribinayak and terraced plantations all the way to Gosainkunda. Today's trekking time is about 5 – 6 hours.
Accommodation:
Tea house/Guest house
Meal:
Breakfast, Lunch, Dinner
Day 4: Trek returning to Dhunche Bazaar

You will return today to lower elevation at Dhunche Bazaar following the same trail as descending is quicker. Overnight stay in the hotel.
Accommodation:
Tea house/Guest house
Meal:
Breakfast, Lunch, Dinner
Day 5: Drive back to Kathmandu

Early morning drive back to Kathmandu on a local bus or jeep. The exhausting but incredible 3 days trekking to Gosainkunda is an amazing chance to enjoy the cool weather of the soaring Himalayas. Step On Himalaya will organize all the program for you and do the necessary documentation required.
Accommodation:
N/A
Meal:
Breakfast, Lunch
---
Is the proposed itinerary suitable for you?
If you are looking for a custom itinerary, please feel free to reach out to our team of professionals at any time.
Cost Details
What is included?
Local transportation (local tourist coach or bus) from Kathmandu to Dhunche Bazaar to Kathmandu. Jeep also can be hired as private transportation at an additional cost
National park Entrance fees
Local and Government taxes
All 3 standard meals (breakfast, lunch, and dinner) with tea or coffee during the trekking
All the accommodation during the trekking
A well-trained experienced and English speaking trekking guide
What is not included?
Personal expenses like beverages like Alcohol and drinks
Tips and Gratuities
Review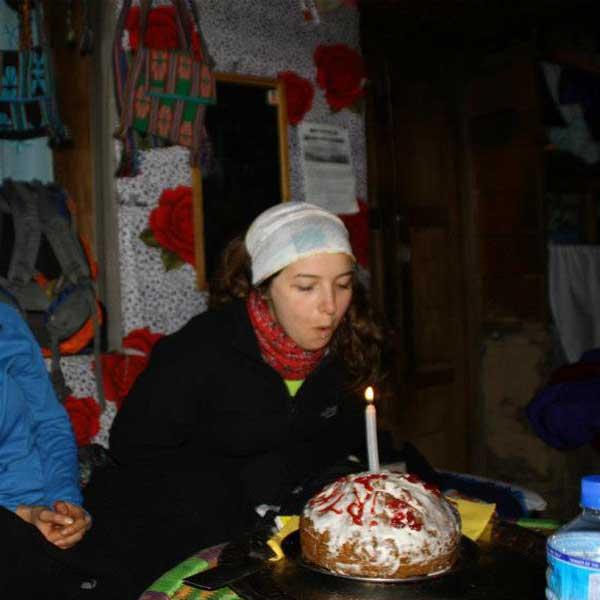 It was an awesome experience from Nepal trekking, unforgettable and special. Super satisfied with Step on Himalaya services and exceptional guidance by Hari to Gosainkunda Lake Trek. We were really lucky with the climate and the treat we were given was wonderful. Unexpectedly achieved more than what we expected. Highly recommended, you won't regret it! 100% assurance!
---