Status of COVID-19 in Nepal
God has been bestowing the blessing over Nepal. Nepal has tested almost 432 Coronaviruses suspected individuals after the first case. Luckily all of them have tested negative that means Coronaviruses is not yet detected in Nepal.
Tourism is one of the major industries that is responsible for generating income of Nepal. Visit Nepal Year 2020 is a way of promoting tourism in Nepal. Many tourists visited Nepal since the beginning of 2020 and are still visiting. Several agencies, travel and tour companies have tailored attractive packages with various offers to attract the tourists all over the world.
Nepal was and is celebrating Visit Nepal Year 2020 with joy when there was an outbreak of Corona virus in Wuhan, China in December 2019. The epidemic of illness by Coronavirus was first reported on New Year's Eve. Since then, there was an announcement of high alert around the world. The causative agent of the illness was discovered to be a novel coronavirus which is now names as COVID-19. The health officials all over the world have been warned about the possibility of pandemic of COVID-19. The unprepared world was suddenly arisen for the preparedness of the new challenges emerged by the COVID-19. Government of every countries has been spending on infrastructures to prevent it, to deal with it and to research on it.
Preparation by Tribhuwan International Airport
COVID-19 has adversely affected Visit Nepal Year 2020 resulting to decrease in the number of Chinese tourists as well as that of other nationalities. Tribhuwan International Airport has currently added 3 new Infrared Radiation Thermometers to monitor people who may be infected by deadly Coronavirus. This has helped in increasing the flow of tourists as they will be thoroughly checked and quarantined if needed. The sole international airport of the nation has stepped up in the health screening process for the passengers. Broadcasting information related to COVID-19 has been started in Nepali, Chinese and English languages. A spray of liquid sanitizer on passengers has also been arranged by TIA.
Preparation by Nepalese Government
Nepalese Government showed their potentiality of handling any emergency outbreaks of diseases. A quarantine facility was set up in a rapid progressive speed at Kharipati of Bhaktapur disctrict. A plane was chartered to bring back the Nepalese who were stuck in Wuhan, the epicenter of COVID-19 on morning of 16th February, 2020 and were escorted to the facility. The evacuees stayed there for 14 days and tests were done which resulted Negative infection. The evacuees expressed their contentment to Nepalese government and those staffs from the airlines who helped them to return to their homeland. Further monitoring is on-going. Any suspected traveler is brought to the quarantine facility.
If there arises any signs of infection, the traveler is immediately shifted to the hospital for further investigations and treatment. The hospitals have been equipped with the necessary special equipment to treat coronavirus patients. Sukraraj Tropical Infectious Diseases Hospital at Teku is the focal center for the referral cases of suspected patients while Epidemiology and Disease Control Division is handling the department that is monitoring the possible flare-ups in the country. The Health Ministry has strictly informed and directed all the government and private hospitals in the country to have ventilator-supported ICUs be on standby mode for any kind of emergency needs.
The mysterious virus – COVID 19 has now been taking the shape of a full-blown crisis. The anxiety and fear of Coronavirus-19 has spread all over the world as a deadly virus. The vulnerability of the COVID-19 is quite similar to SARS (Severe Acute Respiratory Syndrome) in 2002 and 2003 and MERS (Middle Eastern Respiratory Syndrome) in 2012. Hence, Nepalese government and Tribhuwan International Airport has instructed the health desk at the airport to strictly monitor the passengers and relay the information regarding COVID-19. A medical doctor and paramedics are deployed by the Health Ministry to cover the health desk round the clock to continue the surveillance and take precautions. Not only at the airport, but there are screening checkpoints in the borders of Nepal as land is another way of entry to Nepal for tourists.
The less information about COVID-19 is another reason for the people to freak out. So, here is a basic but fruitful information shared by Step On Himalaya team to increase the awareness about COVID-19.
What is COVID-19?
COVID-19 is a similar virus like SARS (Severe Acute Respiratory Syndrome). In fact, COVID-19 is a coronavirus that causes illness with symptoms from common cold, sneezing to more severe forms of diseases. Coronaviruses are large family of viruses that are transmitted between humans and animals. This outbreak by COVID-19 has alerted the Global health system as this strain of coronavirus has now become a cross-border pandemic health issue unlike SARS, Bird flu, Zika virus and Ebola virus. At the present context, the number of infected population and the number of death tolls have increasing trend.
This is the new strain of Coronavirus, hence there is no adequate information regarding the characteristics of this virus but the mortality rate is relatively low in comparison to the previous outbreaks of coronavirus. Unlike SARS, MERS; the incubation period of COVID-19 is up to 14 days. Hence, the suspected individuals are quarantined for 14 days. It is to remember that an asymptomatic infected individual still can transmit the disease during this period of 14 days or even the infected individuals can transmit the virus despite of the improvement.
How is the transmission measured?
The transmission of COVID-19 is measured in the form of R0 (pronounced as R – naught). This denotes the infectivity number. The R0 of COVID-19 is estimated at 3 which means 1 (one) infected individual can transmit the virus to 3 (three) healthy individuals.
How is the diagnosis established?
Accurate clinical diagnosis is yet a challenge but the screening is the only possible way of identifying the virus. The symptoms of COVID-19 are similar to those of the viruses like Influenza or other weaker strains. There are Coronavirus test kits designed by CDC which is intended for use with upper and lower respiratory specimens collected from persons who meet CDC criteria for COVID-19 testing.
What are the symptoms?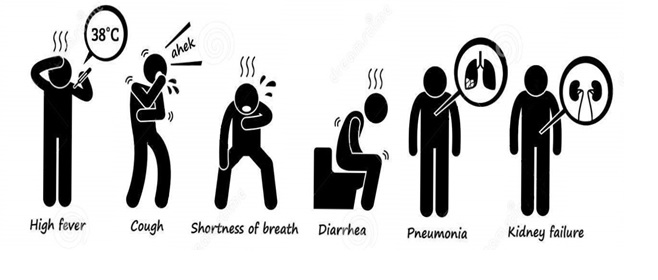 How to protect yourself or prevent infection from COVID-19?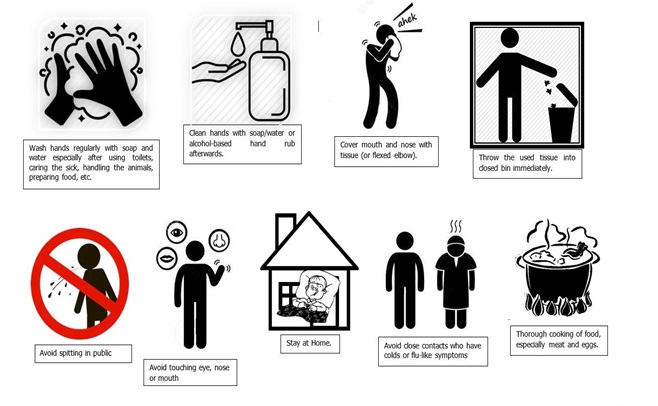 Coronavirus status in Nepal
At present context, no any cases has been suspected. The 175 individuals who were brought in Nepal from Wuhan, China were sent home after the strict observation for 14 days in the quarantine facility set up in Kharipati, Bhaktapur.
The first case was of a 32 years old man, Nepalese student studying in Wuhan University of Technology, Wuhan, China who returned to Nepal on January 13, 2020. He fell ill on January 3 for which he came back to Nepal. He consulted with the chief complaint of cough at the Outpatient Department of Sukraraj Tropical and Infectious Diseases Hospital. No history of exposure to the wet market of Wuhan, China was given. Throat swabs collected and tested which was positive for COVID-19. The test was done in WHO laboratory in Hong Kong. He was admitted with the temperature of 7=37.2C (99F) with throat congestion only. He was then isolated and broad-spectrum antibiotics were given along with other supportive treatments. He suddenly developed difficulty in breathing and the SpO2 (Oxygen saturation level) dropped to 87% on room air. Chest radiographs revealed the infiltration in the upper lobe of left lung. The temperature spiked to 38.9C (102F) next day with increase in difficulty of breathing. On the 3rd day of admission (January 16), there was no fever and he was improved clinically. Follow up assessments were done on January 29 and January 31 sending the throat swabs which resulted Negative. Hence, the Health Ministry announced the first case of Coronavirus in Nepal was detected on January 23, 2020. Likewise, there were three individuals who returned from China with similar symptoms, were kept under observation. The test results were negative.
Effects of Coronavirus-19 in Nepal
According to the NTB, the top ten countries from where Nepal receives the maximum tourists are stated as high alert. Those countries are India, China, Thailand, South Korea, Australia, Germany, France, US, Sri Lanka, etc. Travel advisories have been issued by most of the countries. Some countries like Thailand has discouraged traveling abroad stating "it could be your last holiday". Japan is considering to call of the 2020 Olympics while Saudi Arabia has completely suspended the entry of foreign pilgrimages for the Hajj. Many actions have been implemented in different countries in different ways to limit any unnecessary risks as well as to avoid entry of Coronavirus. In the meantime, Nepal is also considering to postpone "Visit Nepal Year 2020" as India and China are the two major sources of tourists to Nepal. The Rasuwagadhi, Nepal-China border has been temporarily shut down to prevent its spread in Nepal.
The project of Pokhara Regional International Airport has been delayed in completion due to labor shortage. Many Chinese workers had returned to China for the celebration of Lunar New Year holidays in January. Those Chinese workers were supposed to return to Nepal by February 1. But due to the coronavirus epidemic, the workers are now undergoing quarantine before they will be departing to Nepal for their work. Other project works like Gautam Buddha International Airport, the 756-Megawatt Tamur Storage Hydroelectricity project, the Melamchi water supply project, also have been adversely affected.
Coronavirus and Visit Nepal Year 2020
As mentioned earlier, Nepal is considering to postpone the Visit Nepal Year 2020. It is mainly due to decrease in influx of tourists coming from China and India. Nepal received 1.19 million tourists among which 254,150 Indian tourists and 169,543 Chinese tourists in the year 2019, according to the immigration office. But this year, the inflow is very much reduced as many flights between China and Nepal have been suspended. Experts like Deepak Rak Joshi, former chief executive officer at NTB (Nepal Tourism Board) has advised to use this crisis period to support Chinese partners and innovate ideas focusing on post crisis marketing strategies. Also this time can be utilized to encourage and promote the domestic tourism.
Finally, let's pray for the departed souls rest in peace and for the speedy recovery of infected individuals. Let's not panic but spread the relative information to protect and prevent from the effect of COVID-19.
The latest updates regarding Coronavirus-19 can be checked in the given web link: https://www.worldometers.info/coronavirus/
Author: Step On Himalaya
Date: 5th March, 2020