Annapurna Luxury Trek
Trip Overview
Trip at a Glance
Country: Nepal
Trip grade: Easy
Destination: Nepal
Activities: Adventure, Family, Luxury
Accommodation: Hotel/Lodge
Meals: Breakfast in City and three meal during the trekking
Maximum altitude: 2000 m
Group size: Minimum 1
Best Season: Spring & Autumn
Annapurna region in Nepal has a lush Himalayan foothills to trek and explore and you can mix luxury and trekking there. The lower region of the Annapurna has luxury lodges that make your stay luxurious in the mountains. Annapurna Luxury Trek is an adventure that you can do it style.
What is Annapurna Luxury Trek like?
This adventure is a short trekking trip in the Annapurna region. It involves six days of trekking in the Annapurna foothills. The adventure goes on a relaxed pace letting you more time to enjoy and relax. However, a couple of days of trekking are a bit longer than others.
As a luxury trekking adventure, the trip uses luxury lodges as accommodation option. Short walking hours, going on an easy pace, and staying at luxury accommodations during the trip give you more time to relax as you explore.
You can enjoy beautiful and lush green nature and also enjoy the view of mountains at the same time. The view of mountain peaks in the Annapurna range makes the adventure more beautiful. While trekking in the region, you also get to explore beautiful villages as you trek past them or stay overnight.
All the places where you stay overnight have spectacular view of the Annapurna range. You can relax and enjoy the view and luxury of the accommodation when you reach the overnight destinations. Trekking on a relaxed pace, enjoying the view of the mountains and nature, and staying cozy in the luxury lodge accommodation is something to do in style while in adventure.
If you want to go on another beautiful short trek in the region, please check here.
View More
Fixed Departures
Join our Fixed Departure
Trip start
Trip end
Status
Price
Book Now
FAQ's
A trekker has to walk a minimum of 5 to 8 hours daily.
As a Himalayan trekking adventure, you will trek through mountainous landscape. Walking up and down the hill during the trek is quite common characteristic of trekking in Nepal.
Yes, definitely. Elevation change is an important part of the trek. As there is a lot of walking up and down the hill, there is an elevation change every day. However, the range of change differs from day to day. It is mostly an uphill trek up to the destination and downhill on the way back. However, the trail winds up and down the mountains throughout the trek regardless of the elevation difference for the day.
Nepal offers trekking adventures throughout the year. However, the autumn and springs seasons are the best seasons to go trekking in Nepal. The months of September-November and March to May offer the best weather and atmosphere for trekking. Althgouh high altitude trekking is quite difficult and impossible in winter season, low altitude trekking can be done throughout the year.
Although age is not a bar to go on a trekking adventure in Nepal, you certainly need to consider a few factors before going on a trek. The basic requirement for trekking in Nepal is good fitness level regardless of your age. Since the activity involves a lot of walking up and down the mountains, you need to be fit enough to indulge in the activity for multiple days.
We highly recommend taking a guide with you when you go on the trekking adventure. Even if the trail is well-trodden and has many trekkers trekking, you need to have a guide for many reasons. First of all, a guide is not only the person to show you the trail. A trekking guide has a huge responsibilty of completing the adventure ensuring the safety of trekkers in the strange mountains. Moreover, the guide will also make your trip more than an adventure. It becomes a lifetime experience.
The mountains now have basic teahouse and lodge accommodations for trekkers. You can spend overnight in the warmth of guesthouses called teahouses during the trek unlike tented camps in the past.
The most common food during the trek is Dal Bhat. However, you can choose other food items from the menu. The food items differ from region to region.
You need to prepare your stuff wisely for the trek. The backpack you get ready for the trek should have all essentials and avoid any unnecessary stuff in there. Check this equipment list for a better understanding of what to pack for the trek.
Yes, permits are necessary for the trek. Since, you are going on our package, we take care of everything. You do not need to worry about arranging the permit for yourself.
When you are on our trek package, we provide porters to carry your backpack in the mountains. A porter carries the backpacks of two trekkers.You suggest you to keep your backpack around 10 kg.
Yes, you will need some cash in the mountain. Although your major meals are included in our package, you may need money for drinks, shower, souvenir shopping, wifi, device charging, and tips to guide and porters at the end of the trip.
We will brief you on how much to take on the first day of the trip when we meet in Kathmandu.
No, there is no acclimatization break during the trek. Although it is a Himalayan trekking trip, it does not require you to take any extra days for acclimatization. You can adjust in the climate as you trek to the higher elevation.
We focus on small group adventures to ensure that every one is well-taken care of and they enjoy the trek. We keep our group to the maximum limit of 16 people.
In that unfortunate case, we will make sure that you are well taken care of. If you cannot continue your journey further towards the destination and want to rest or return back, we will arrange a porter to be with you and take care of you while rest of the group members continue the trek.
Detail Itinerary
Day 01: Arrival in Nepal, Meeting with Step On Himalaya Team

The arrival at Tribhuvan International Airport is the first day of the trek. After arriving at the airport, the representative of Step On Himalaya will be there to welcome you and to take you to the hotel. You can freshen up, rest and then wander around or just relax. A short guidance and briefing about the trekking. Overnight at the hotel.
Accommodation:
Hotel
Meal:
n/a
Day 02: Sightseeing tour of Kathmandu Valley

A day for exploration of Kathmandu valley. It is an organized sightseeing tour in the different cultural heritages of Kathmandu in a private vehicle guided by an experienced, English speaking guide. Swayambhunath, Pashupatinath, Boudhanath, Kathmandu Durbar Square, Patan Durbar Square are some cultural and historical sites. After the sightseeing tour, you will be back at the hotel. In the evening, you can visit the local markets if you want. Overnight at the hotel.
Accommodation:
Hotel
Meal:
Breakfast
Day 03: Fly from Kathmandu to Pokhara, a short drive to Nayapul and then Hike to Birenthanti.

An early morning breakfast and then a flight to Pokhara. The representative will take you to the Domestic Airport and you will fly for about 25 – 30 minutes to Pokhara enjoying a scenic view of the magnificent Himalayan ranges. After arriving at Pokhara city, you will drive to Nayapul for about an hour. From there, you will hike towards Birethanti following the Trail of Modi River. Birethanti is the checkpoint of the ACAP. Stay overnight in the Sanctuary Lodge in Birethanti.
Accommodation:
Lodge
Meal:
Breakfast, Lunch, Dinner
Day 04: Trekking from Birethanti to Ghandrung

2nd day of the trek – Actual trek starts from Birethanti. Following the river, you will set the destination to Ghandrung village. There are small typical settlements of Gurung communities, rice paddy fields and lush vegetation on the way. Ghandrung offers amazing sceneries of snowy Himalayan peaks. After walking for about 4 hours, you will reach the Himalaya lodge of Ghandrung enjoying the luxury and coziness of this lodge. Stay overnight in the luxurious lodge of Ghandrung.
Accommodation:
Lodge
Meal:
Breakfast, Lunch, Dinner
Day 05: Exploration around Ghandrung village

A whole day to explore the beauty of Ghandrung village. The Annapurna Luxury Trek is a luxurious trek so we will spend more time to enjoy the cultural and natural beauty of the Annapurna region. You will enjoy the simple lifestyle of the Gurung people and the ancient culture and tradition. The exploration around Ghandrung village is a wonderful experience. Another night in Ghandrung.
Accommodation:
Lodge
Meal:
Breakfast, Lunch, Dinner
Day 06: Trekking from Ghandrung village to Majgaon

Majgaon is the destination today. You will walk from Ghandrung village enjoying the magical views of the gigantic mountains. You will walk down to the Modi river and the uphill towards the Gurung cottage in Majgaon for the luxury stay. Stay overnight in Majgaon.
Accommodation:
Lodge
Meal:
Breakfast, Lunch, Dinner
Day 07: Trekking from Majgaon to Dhampus

You will trek today to the Dhampus village. This village offers you a rich cultural and natural wonders. The trek from Majgaon to Dhampus is an amazing scenic walk. Stay overnight at Basanta Lodge in Dhampus.
Accommodation:
Lodge
Meal:
Breakfast, Lunch, Dinner
Day 08: Trekking from Dhampus to Phedi and then drive to Pokhara

It is a short trekking today from Dhampus village to Phedi for about an hour. The descent will offer the amazing lush vegetation with the beautiful rice paddy fields. After arriving at Phedi, you will drive to Pokhara. A private vehicle will be waiting there to take you to the hotel. You can freshen up and relax or wander around the Pokhara city. Stay overnight at the hotel in Pokhara.
Accommodation:
Hotel
Meal:
Breakfast
Day 09: Activity day in Pokhara

You will spend a whole day in Pokhara valley doing different adventurous and fun activities. Boating in Phewa Lake, Sunrise view from Sarangkot, visit Gupteshwor cave, Davis falls, Tibetan refugee camp, etc. are some fun activities. You will then return to the Hotel in Pokhara and stay overnight.
Accommodation:
Hotel
Meal:
Breakfast
Day 10: Fly back to Kathmandu from Pokhara

After having breakfast, you will enjoy the flight back to Kathmandu from Pokhara. You will now be taken to the 5-star hotel of Kathmandu. Stay overnight.
Accommodation:
Hotel
Meal:
Breakfast
Day 11: Leisure day in Kathmandu

A spare day to spend in Kathmandu. After spending wonderful days in the mountains of the Annapurna region, today you will get a chance to roam around the bustling town of Kathmandu valley. You can go shop around or relax.
Accommodation:
Hotel
Meal:
Breakfast
Day 12: Departure day to Tribhuwan International Airport

The final day of Annapurna Luxury Trek – Departure day. These 11 days of the trekking would be the life experience of yours. You will reach the airport with the representative of Step On Himalaya at least 3 hours before the flight time. Hoping to hear from you for the next visit to Nepal, have a safe flight.
Accommodation:
n/a
Meal:
Breakfast
Cost Details
What is included?
Airport transfers 2 way – pick up and drop services in private vehicle
Accommodation in 5 – star hotel in Kathmandu and Pokhara with Breakfast
Accommodation in Luxury lodges during trekking with full board meals
Flight from Kathmandu to Pokhara to Kathmandu.
Guided Sightseeing Tour as per the itinerary
Experienced, English speaking, Government License Holder Guide with other supporting staffs
All the ground transportation from the starting to the end of the Trekking
Salary, Insurances, Food and Accommodation allowances, etc. for the staff
What is not included?
Nepal Entry Visa fee
International Airfare from and to Nepal
Personal expenses like Bar bills, snacks, laundry, battery charging, internet, etc.
Meals in Kathmandu and Pokhara except for Breakfast
Any unexpected or unforeseen expenses due to mishaps or natural calamities or medical emergencies
Gratitude and Tips to the staff
Any fees or services not mentioned in "Cost Includes" section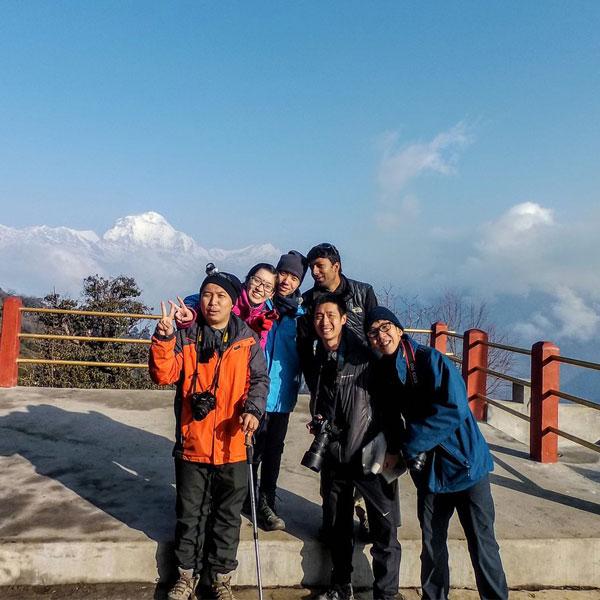 To love adventure is great but being involved in an adventure with someone you can trust is amazing! It was our first trek to Himalayas and we were so amazed to experience how well our trip was organized. Enjoyed a reliable and wonderful company of Mr. Hari who is so much passionate and friendly.
Definitely going for more trips with Step On Himalaya in coming days + recommend others too!
happy_yaatri, Belgium
---